All of the new friends I made traveling throughout Vietnam last year are in the midst of celebrating Tet 2019, the Lunar New Year. Many gave me a glimpse of their cherished holiday rituals. Some are traditional and some are new. And all are simply wonderful.
In Ho Chi Minh City (Saigon), travel entrepreneur Michelle Nguyen accomplished the all important pre-Tet preparations just in the nick of time. Her list was a long one: Get the family financials in order. Household spring cleaning. Maintenance and cleaning of the family motorbike. She prepared holiday food treats like the sweet Banh Tet cakes filled with sticky rice, mung bean and pork. Michelle decorated her house with flowers and potted apricot trees. Finally, she prepared the home altar to pay respect to family ancestors. 
Michelle is a British expat but her husband and business partner Khoa is Vietnamese from the Mekong Delta. "Khoa's mother is very traditional. During Tet; she won't let me work," Michelle told me. "Only rest, eat and sleep. The idea is to have all your affairs in order as the old year ends, and be strong and ready to prosper in the new one." Sounds like Michelle was all set — and deserving her holiday rest.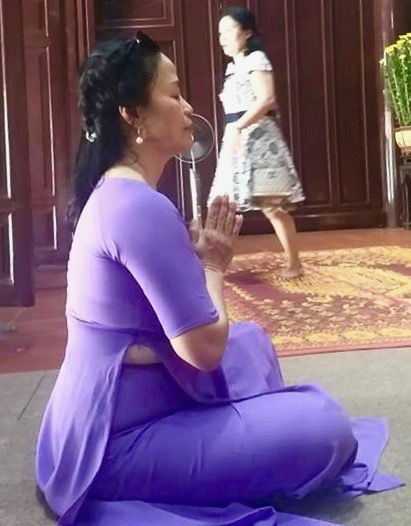 For Tet, virtually every home, business and public place, no matter how humble, has at least one altar of offerings — a curious mix of devotional and decorative items, and modern packaged goods. The belief is that those in heaven desire the same delights as the earthly ones we enjoy. Cookies? By all means. A bottle of vodka? Who's to say that's wrong?
Food, flowers, photos, religious statues all comprise a family altar, many of which are on display all year long. But for Tet, altars often have some unique items with special meanings. In Miss Hang Minh's Cholon home, along side the requisite tray of fresh fruits representing the five elements of Feng Shui, a boiled cock is centerpiece. Cock as in castrated rooster of the finest plumage; it signifies purity and the utmost respect for the appetites of ancestors. And if they don't eat it, Miss Hang's family will; likely dipped in a simple sauce of lime and salt.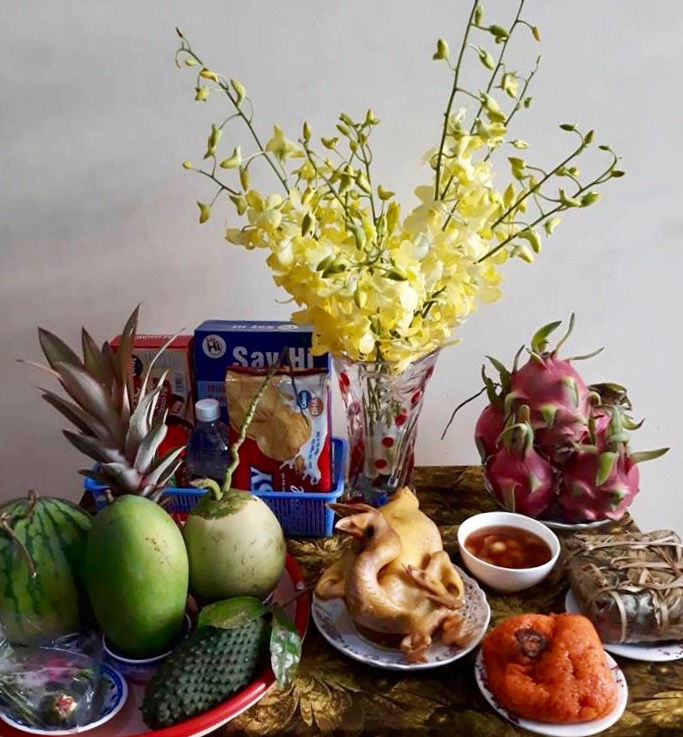 Technically, the Lunar New Year holiday can last a week or more. But the first three days are paramount. Of course, there's a countdown to New Year's Eve—Giao Thua—much the way we anticipate midnight on December 31. Fireworks and noisemaking abound—to scare off the evil spirits. Tet is a Christmas-like gift-giving holiday. But instead of Santa Claus, dancing lions and dragons visit Vietnamese homes to bring good luck and do some evil-spirit scaring. In that regard, you can't make too much noise during Tet.
There's lots of other dos and don'ts for the holiday. You do make sure your home is spic and span clean, or risk a bad report to heaven from the three kitchen gods. That communique is delivered via …. wait for it …. a red carp. So when you see a Vietnamese throwing a fish back in the water during Tet, you know someone is dropping a dime. And you'd best clear up any personal disputes lingering from the prior year. Sounds a lot like Yom Kippur, the Jewish holiday of atonement. Out with your old clothes, in with colorful new duds. The black and white look, usually reserved for business or funerals, is a definite no-no during Tet.
Who visits your home and when is very important. The first day of Tet is for family. The second day of Tet is for friends. It is impolite for those outside the family to visit without an invitation — the old pop-in is definitely out of the question. Persons of prominence, good health, integrity and wealth are welcomed for the good fortune they can bestow on a household in the coming year. If you're a liar, a cheat, a ne'er-do-well, or have the flu….stay away. Sound familiar? It's a lot like the first-footing traditions of Great Britain and Greece. Or my parents' Saturday night curfew rules when I was a teen.
Tet is a busy time of homeward bound travel in Vietnam. Mr. Khoa visited his family home in Can Tho. Miss Hang travelled from Saigon to the rural province of Bac Giang, northwest of Hanoi, to join her sister and widowed Dad. Mrs. Oanh Kieu, who lives in DaNang, went to see her mom and sister a few hours south in Tam Ky, a small town I knew very well from my Army days in 1971. Mrs. Oahn's father passed away three months ago. Nonetheless, they will cook three meals a day for him this New Year holiday. Mrs. Oanh's husband took their children further south to visit his parents in the seaside town of Sa Huynh near Duc Pho. My friend and fellow Americal Division veteran Tom Brogan, who teaches English to the Vietnamese community near Boston, looses a student or two or three each year during Tet, when they make the long journey back to Vietnam from Dorchester, MA.
The young and the old and the dead are the focus of Tet gift giving. Lucky money in brightly decorated red envelopes, is a traditional gift for children. A typical New Year's greeting to elderly friends and family is " lâu trăm tuổi"—may you live to 100 years. Of course, you want to make sure the recipient isn't 99 years old. For the dead, ghost money is burned. No one puts real money to the flame, of course. But stacks of bogus bills are typically set ablaze, often in the streets. An old story claims this tradition dates back to a Vietnamese paper salesman's scheme to pump up his business. He faked his death and at his funeral, his wife ceremoniously burned paper goods. After the paper salesman "miraculously" rose from his deathbed, sales soared. Now that's a bootstraps way to create your own prosperity in the New Year.
My online friend Ngoc Mai, a single mother in Saigon, says she is not a very good cook. Nonetheless, she attempted a "grandiose" hot pot meal for her holiday dinner. It was a nod to tradition that looked awesome to me. Yet Miss Mai's Facebook Tet greeting was a rock 'n roll video captioned with a salutation that gushed about happiness, health, youth, beauty. Nearly half the Vietnam population is under 25, and almost 70 percent were born after the Vietnam War. The newest Tet rituals are evolving to reflect the values of the current generation.
Chúc Mừng Năm Mới — literally Happy New Year– is the universal Tet holiday greeting. But since everyone in Vietnam effectively becomes one year older at the start of the Lunar New Year, I also want to wish all my friends in Vietnam, a very happy birthday.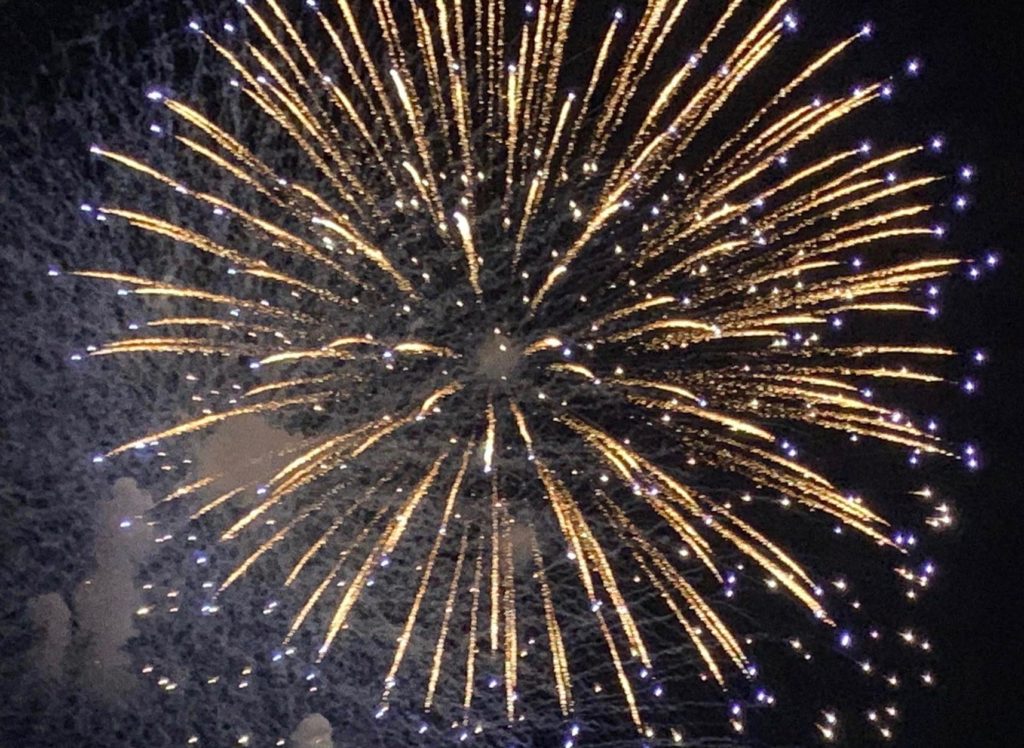 Chúc Mừng Năm Mới