We each have a defining moment in our lives. For John McCain, there was more than one.
You might say my one encounter with the late Senator John McCain (1936-2018) was off-the-wall. It certainly wasn't face-to-face. It came at the Hoa Lo Prison Museum in Hanoi last February.
The BW and I hustled through a pissy cold rain on my first full day back in-country after 47 years. It was nice to be roaming around in a foreign city, something we'd done so many times in the past throughout the US and Europe. But this day I was dragging us both to the infamous Hanoi Hilton. We were going back to the war. It was uncertain how we'd each react.
In solidarity, I wore a camouflage-bandana neckerchief that day. We were warmly welcomed in Hanoi. Americans get thumbs up from Vietnamese. And my veteran status put me even one rung higher on the admiration scale. Or was that a by product of the BW at my side? The prison was built by the French and used to incarcerate and torture Vietnamese nearly a hundred years before our downed pilots were locked up there in the 1960s. It's a noteworthy example that, like everything else in Vietnam, there was a there there before the American War.
But some of the crap they fed us at the museum was way too much to swallow. Particularly its treatment of McCain. Photos of him— from wartime to nearly the present—are plastered all over the walls. He's a celebrity icon to the Vietnamese.
McCain was shot down by a surface to air missile in October, 1967, on his 23rd bombing run over North Vietnam and imprisoned at the Hanoi Hilton for more than 5 years. As the son of a four-star Navy Admiral who was supreme commander of all U.S. Military forces in the Vietnam theater, McCain was considered a "crown prince" prisoner by his captors. He was offered his freedom, which would have been a major PR coup for the Communist government. By refusing, as he was expected to do by military honor code, McCain set himself up for torturous mistreatment beyond the crippling injuries he already sustained from his jet's crash landing. It was these subsequent beatings that drove McCain to the breaking point and his coerced "confession"; an abject apology that drove him to near suicide, according to his memoirs.
"On the fourth day, I gave up.

"'I am a black criminal,' the interrogator wrote, 'and I have performed the deeds of an air pirate. I almost died and the Vietnamese people saved my life. The doctors gave me an operation that I did not deserve.'

"….For twelve hours I had written out many drafts of the confession. I used words that I hoped would discredit its authenticity, and I tried to keep it in stilted generalities and Communist jargon so that it would be apparent that I had signed it under duress.

An interrogator had edited my last draft and decided to rewrite most of it himself. He then handed it to me and told me to copy it out in my own hand. I started to print it in block letters, and he ordered me to write in script. He demanded that I add an admission that I had bombed a school. I refused, and we argued back and forth about the confession's contents for a time before I gave in to his demand. Finally, they had me sign the document.

"They took me back to my room and let me sleep through the night. The next morning, they brought me back to the theater and ordered me to record my confession on tape. I refused, and was beaten until I consented."
After the war, as US Senator from Arizona, McCain was instrumental in restoring American-Vietnam relations. Through his bi-partisan efforts and investigations, it was determined that all POWs were in fact accounted for, and efforts continue to this day to discover and identify MIAs in Vietnam, Laos and Cambodia.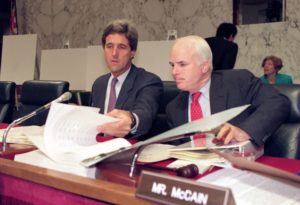 McCain visited Vietnam, including the Hanoi Hilton prison, on numerous occasions. When I made my pilgrimage there, I was horrified to see how McCain was used as a propaganda tool. The Vietnamese still do not admit that McCain or any other captor was tortured or mistreated while in captivity. Meanwhile, the museum is happy to showcase the history of Hoâ Lò–it's name translates to "fiery oven" or "hell hole"– as a torture chamber of Vietnamese prisoners during Japanese and French occupations. To this day, jailers of the Hanoi Hilton claim they were on good terms with their prisoners. A crock of shit, if you ask me.
McCain was this country's last best chance to have a Vietnam Veteran as President of the United States. John Kerry could not unseat the incumbent President Bush in 2004. In 2008, McCain ran into the buzz saw of change named Barack Obama. He didn't help matters much–another defining moment–when he chose Sarah Palin as his running mate. Instead, we got three Presidents who studiously avoided Vietnam service—Clinton, Bush 43, and Trump (Obama was 12 years old when the US pulled out of Vietnam). Class act that he was, McCain never criticized those who shirked military duty, even when he was stupidly and callously attacked for his service and sacrifice by Donald Trump, insensitive prick that he is.
McCain wasn't perfect. But he worked tirelessly and effectively to do the right thing in the wake of his mistakes. That's about everything you could ask of the post Vietnam experience for America and Americans.
It's about everything you can ask of anyone.
McCain's death is a historic loss—a defining moment—for us all.