We're here, in country. Back in Vietnam after almost 50 years. Starting in Hanoi, I figured would be an easy transition from the World. After all, I have no real stuff about what was formerly North Vietnam. Indeed, the BW and I had a fun first evening exploring the night market, joining the local weekend revelers for street theater around Hoan Kiem Lake in the city's center, and strolling for a nightcap to the storied Metropole Hotel's Bamboo Bar.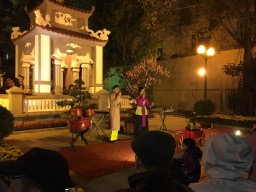 But I was naive to think I'd make it through Hanoi without a tear at my heart.
For our first morning, our extraordinary tour guide, Giang Nguyen, began our local education with a visit to the Vietnam Museum of Ethnology.
We picnicked on the grounds with street-food specialties of smoked dried buffalo meat, grilled sausages, and Bahn Khot—deep-fried rice flour cakes stuffed with ground meat and shrimp—from the Muong province of Hoa Binh, a mountainous area northwest of here. Later, we visited "Uncle Ho's" towering pagoda-style mausoleum and the tranquil site of his stilted summer residence and the bright yellow Presidential Palace. It's cold and damp and gray here, but we are fascinated by the never ending buzz and ballet of motorbikes and taxis and bustling crowds.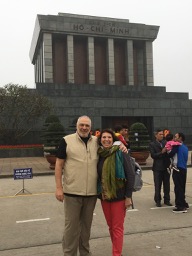 "Han Oi", by the way, roughly translates to city surrounded by rivers, and comprises several large and small lakes all around the town.  An afternoon mystery walk led us to very unusual one, in a quiet and secluded residential neighborhood in the Ba Dinh District of the city. Amidst this charming square block of modest French-colonial "tube" buildings, we came upon an eerily poignant Vietnam War relic.
Partially submerged in Huu Tiep Lake, is the under carriage and landing gear of a B-52 bomber, shot down over Hanoi during the Christmas Bombings of 1972. It stands in silent sentry, an abstract memorial sculpture in a watery grave.
Seeing it literally took my breath away. I had read about the so-called B-52 Lake, but it never hit my radar for this trip. I won't recant the history of the Operation Linebacker bombings here at this time.  But  author Peter Alan Lloyd has some dramatic details about this very special and sobering location.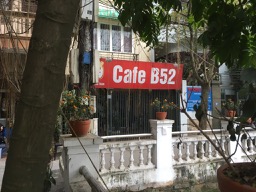 At that point, I really needed a beer. But I settled for "cà phê đen nóng" (hot black coffee), my first Vietnamese language lesson, courtesy of Giang.
More to come.